Praisetek Gospel Music Awards (PGMA) is an appreciative award which is aimed at appreciating and encouraging not only well known Gospel artistes but also the unknown for their good works in the society, spreading the gospel through music and dedicating their lives to Christ.
Quite a number of Gospel artists have been in the industry for many years and are being discouraged one way or the other either by not receiving recognition in the industry or by low album sales. By giving them an award, PGMA hopes to make them more visible, use that as a platform to encourage them, appreciate and celebrate them for their good works in the kingdom of God.
Hosted by award winning artists Isaiah Raymond and Lurine Cato it is a night where many new comers to Gospel music world will receive high appreciative commendations of "Well done and keep up the good work in building God's kingdom" from their numerous fans.
Many big names have been lined up to perform on the night. The Praisetek Gospel Music Awards will be held on Saturday 11th October 2014 at 5pm and will attract the greatest names in the gospel music world with more than 60 top gospel singers in attendance and across all continents of the world.
The award night will feature live performances and comedy show with top stand-up comedians lined up for display of Gospel comedy in a show-biz extravaganza and major entertainment night.
Among the previous award winning artistes and bands include; Bubble for Christ, JAZZIS TEE, REV Gbemi Olaleye, Ebi Mensah, Evangelist Dolton Barzey and Evangelist Akeem Kareem. Others include ;the Hope Band, Eugene and Revival, AFG Nexus, The T.L.R, Divine S.L.K , Agape Divine Intervention and the Sanctuary Choir. See flyer above for this year's featured artists.
Get your tickets now for the Praisetek Gospel Music Awards 2014!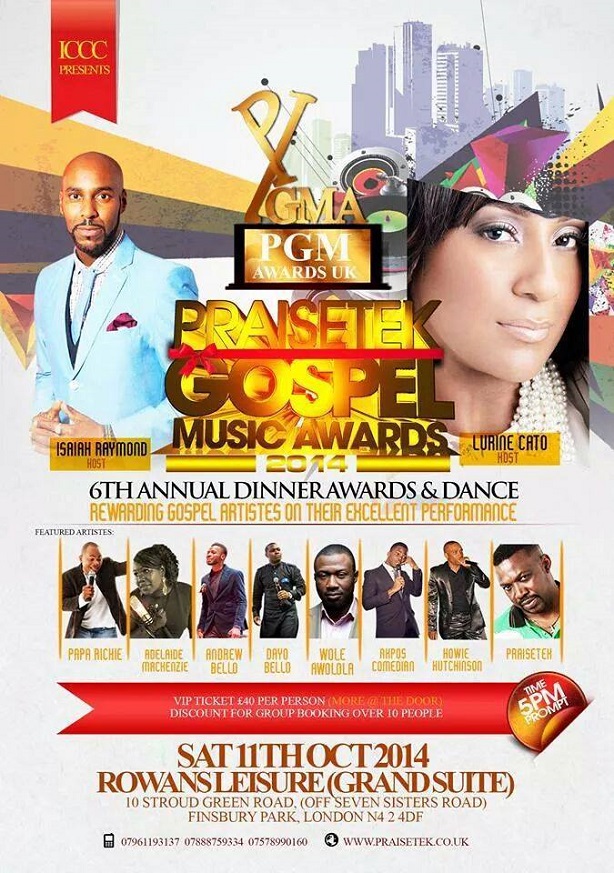 aStepFWD