Alex Hagen was completely unaware that his late shift as an Uber driver in Manchester would see him entertaining Grammy Award nominated and Billboard Gospel Charts topping artist, Todd Dulaney as a customer. Or that he would receive a personal invite as a special guest to the North West's biggest Gospel music event, Festival Of Praise which took place on 11th January 2019.
'Victory Belongs to Jesus' singer Todd Dulaney and his wife Kenya were in Manchester preparing for Todd's headlining performance at Festival Of Praise which annually commands an audience of 5000 – 8000 people from across the UK.
The night before the event the couple decided to go to Manchester's popular and trendy city centre area, the 'Northern Quarter' for a meal. Upon entering their Uber, Todd recognised that Christian music was playing on the radio and proceeded to introduce himself to the Uber Driver – Alex Hagen.
"He asked if I would be attending Festival of Praise and I told him that I wasn't much of a music person, but that I would ask my choir master if he would be interested in attending," says Alex. "The penny still hadn't dropped as to who he was."
Alex called his church 'choir master' whilst Todd was in the car and told him about the event.
"Todd and my choir master spoke for a moment before it became clear who he actually was."
The conversation was followed by excited screams as both Alex, his choir master on the phone and the choir master's wife in the background couldn't believe that they were speaking to Todd Dulaney himself. Their reaction was caught on camera and uploaded to Todd's instagram page where it has received over 20k views.
Todd said, "That encounter was such a blessing for both of us. Connecting with Alex and getting the opportunity to bless his family was amazing for me. Those kind of encounters are orchestrated by God and I just know that He had a plan for me to meet Alex that night. To be honest, even just being recognised so far away from home and knowing that people are being blessed by my music felt fantastic."
Todd invited Alex Hagen and his choir master to Festival Of Praise (pic below) as his special guests. They attended the event with around 10 friends and family members.
Alex said: "I wasn't even going to work that night so I know that was God that orchestrated our meeting. I was so oblivious as to who he was at first and he didn't go out of his way to tell me, his priority was inviting me to attend the event so that I would be blessed. He reserved special seats for us and came out from backstage to meet us. What can I say about Todd Dulaney? He is a real man of God with a genuine desire to touch lives. You never know when you are entertaining angles."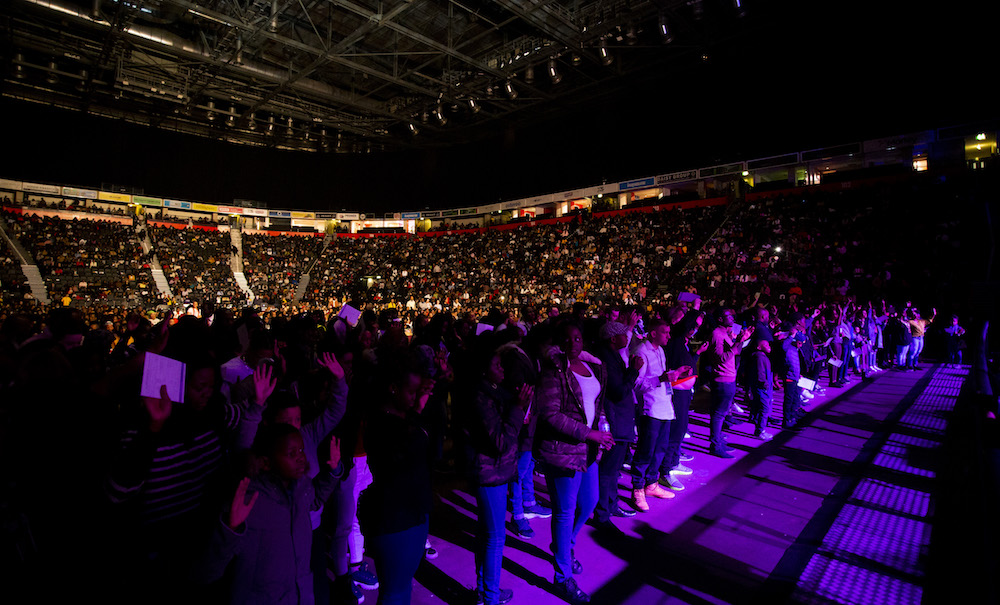 The Chicago based singer/songwriter is a former professional baseball player who was drafted by the New York Mets before trading his baseball bat for a microphone. Since then he has been nominated for an array of awards including the Stellar awards, Dove Awards and Grammy awards. Todd believes that his time in the league prepared him for his time in ministry. His most recent single 'You're Doing It Again' (below) was recorded in South Africa and dropped on the 1st November 2018. It's available on all digital outlets including Spotify, Google Play, iTunes and Amazon Music.