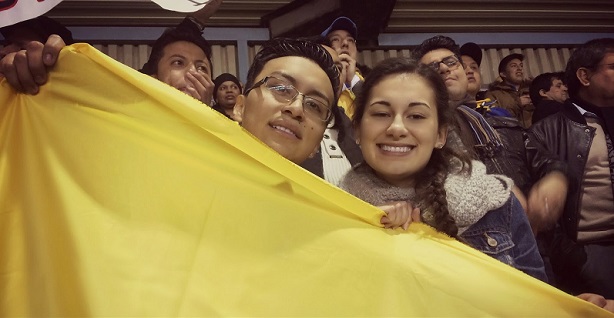 About a few weeks ago I went to the best football match I have ever seen! It was actually the first and only football I had ever seen… But nevertheless, it was pretty amazing!

It was Ecuador against Australia and because my husband-to-be is Ecuadorian, I was of course representing the country as if it were my own. I was wearing the bright yellow coloured football shirt, shouting and cheering 'Vamos Ecuador!' and singing along to all of the songs to motivate the football players. However, the match took a turn for the worst in the first half, as the opposite team scored three goals and Ecuador hadn't scored any. People that were supporting Ecuador began to lose faith, some of them even left in the middle of the match as they couldn't see Ecuador coming back from three goals.
When I think about the match now, I think about how it can relate to our spiritual life. When we see that all of the odds are against us, we lose faith like the people that left the match had and believe that there is no coming back. We lose hope, we doubt and at the back of our minds we think that were just wasting our time. (Believe me, in the first half of the match, I wanted to claim back the £20 I had spent on the ticket!) We need to have faith even when events that are occurring around us are telling us not to. We need to believe that God has called us to triumph, to succeed, to win and has not called us to be failures. So when your mind starts telling you, 'You won't get that job because there's other people that are more qualified than you' or 'Look at how well that other person is doing. You will never make it as far as them'. Remember that God loves you infinitely and has a greater plan for you than you could ever imagine.
When most people lost hope in Ecuador in the match, the unexpected happened. Ecuador scored! And the goals kept on coming and before you knew it, Ecuador and Australia were both on 3-3. Now, they both could have easily drawn in the match but then the most amazing thing happened. Ecuador triumphed by scoring their fourth goal with only one more minute to go for the match to finish.
God doesn't always answer prayers instantly, but when He does… He gives us much more than what we had initially asked for. He is a God of promises and He never fails.
Trust in the Lord with all your heart
and lean not on your own understanding;
~ Proverbs 3:5-6
First published by YoungWomanOfChrist