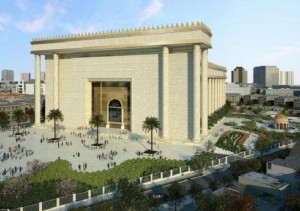 What a magnificent and truly spectacular project.

In biblical history, King David's son, King Solomon built a temple for God. A temple like no other on Earth. This temple was only accessible to the High Priests, who were the consecrated guardians of the temple. Not just anyone was allowed to enter this sacred temple.
In 2014, the building of a replica of Solomon's Temple will be completed and will be accessible to anyone, anywhere from all over the world.
This project was started in 2010 by Bishop Edir Macedo, the founder of the Universal Church of the Kingdom of God (also known as the UCKG). The idea is to remember the greatness of Solomon's Temple in the present but with new proportions, bigger than what it was 2000 years ago. The Temple of Solomon will be built in Sao Paulo.
Bishop Macedo said, "It will be remarkable, that people will feel something different just by passing by it. We are going to build it to bring the faith of Israel, that faith of Abraham that gave start to the Kingdom of God in this world to OUR days.
To further emphasise the magnitude of the project, The Guardian stated that the sheer size of the project will put the famous Christ the Redeemer statue in the shade. The benefits are also great for the economy through as many will want to see this great sight. Jews from all over the world are helping to finance this project and so are the members of the UCKG.
This will truly be the greatest building initiative of the UCKG in the world and it is almost completed!
Michael A