After months of endless anticipation and tireless promotion, the UK's biggest Afrogospel event SOLOS London took place at The Clapham Grand last Sunday. Approximately 900 attendees came out to a strong event line-up of Happi, CalledOut Music, Becca Folkes, Asha Elia, Limoblaze, the Spirituals and many others who blessed the stage. But with a very long wait to even get into the building, did a show that promised so much, live up to its billing notwithstanding the initial delay?
Our affable hosts Manny Ade, Kojo Ampadu (Little Black Book) and Titilope (Teetime) kept the audience going from the start and throughout the night. The trio's chemistry, energy and penchant for Afrobeat and pop cultural references drew laughter and entertained the crowd in between acts.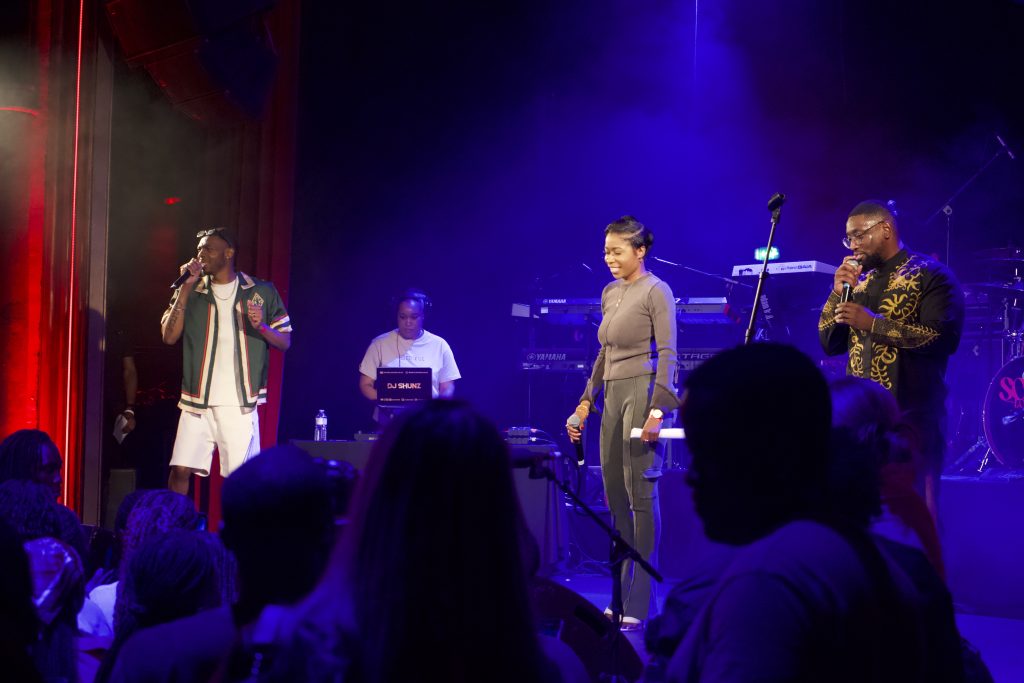 Birmingham rapper Mandy T'chounga took to the stage as the opening act with a signature rap delivery and flow that impressed listeners who will be keen to learn more about her and her music going forward.
We were soon treated to the vocal stylings of sisterly duo JMmusik who gave a soulful set with breath-taking singing that wowed our audience from start to finish.
What made this night extra-pleasing to the eye was the variety in acts and presentation. Asha Elia, the next performer, sang and danced through catchy R&B bops including 'Nights Like This', 'Blessings' and 'Amen'. The choreography with her backing dancers and memorable songs combined to make a lively experience.
Step FWD Awards 2021 Song of the Year Winner Stevie Valentine was the next act. Decked from top to bottom in leather, Stevie has the aura of a superstar to even the most casual onlooker. He cruised through inspirational sing-rap records 'No Lie', 'Let Go and Let God' and 'Stay Strong' to a roaring reception by fans on the night. The hosts would end up joining him for 'Vibin' to close his set.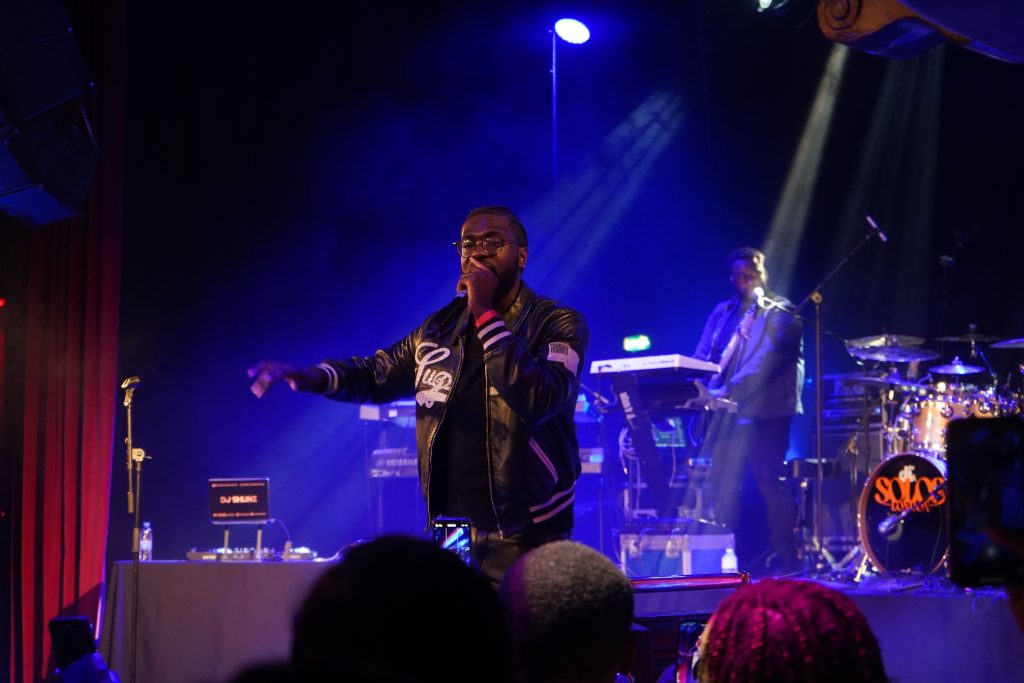 Paul the Messenger's emotive and eloquent song style was next to touch the Clapham Grand stage. The Wolverhampton-based singer has built a steady and impressive catalogue in recent years worth exploring on your favourite music streaming services.
Following Paul, we witnessed the highly anticipated performance of MOBO Award-winning artist CalledOut Music who did not disappoint. Starting with a groove set by the recorded refrain "I will give you all my praise" (You're Mine), the singer-songwriter performed his popular anthems "You're Mine", "My Prayer" and "I Am Free". Such is the following of Samuel "CalledOut Music" Nwachukwu that these well-crafted songs, which double as declarations of faith, had the crowd singing and dancing along to every word. Following on was a heartfelt rendition of Pat Barrett's "Build My Life" which facilitated a place of worship where the presence of God could be undeniably felt.
The HFP artist, whose third album "My Beautiful Reality" is out now, additionally offered an inaugural performance of "Provider", a song on the album. The song's chorus proclaims:
"You'll come through for me
Yes I believe in you
my provider"
These powerful lyrics evidently struck a chord with fans who were already singing word-for-word a song that had only been publicly shown in an Instagram snippet.
Afterwards, CalledOut told me that he and the team at HFP Music were "very excited about the album, what it's going to do and [they] can't wait to see how it feels with everyone who listens to it." These are most certainly exciting times for the singer-songwriter whose rise takes him deeper into uncharted territory with every release. His upcoming tour visits Canada, parts of Europe and returns to London next spring. No matter where you are in the UK, I would implore you to be at the Dominion Centre in London on March 4th 2023 as he headlines his first show in 5 years on home turf.
Next, another star, Becca Folkes took the microphone. On a night never short of memorable moments, her dance moves and renowned vocals took centre stage. Her use of the chorus to Mr Vegas' 'I am Blessed' had the audience join in a call to worship. The dancehall hit gave an ingenious touch to a set which included "Control" (live with CalledOut Music for the first time) , "12 Rounds" and Masterkraft's "Hosanna".
Becca is in the final stages of recording her debut album "Exodus". She intends to release it towards the end of the summer and describes the upcoming project as a "diary that charts a journey and consists of a range of styles with songs conveying a message". She confirmed there will be a live version of 'Baba' on the album. We look forward to hearing that rendition and to be taken on the musical journey of "Exodus".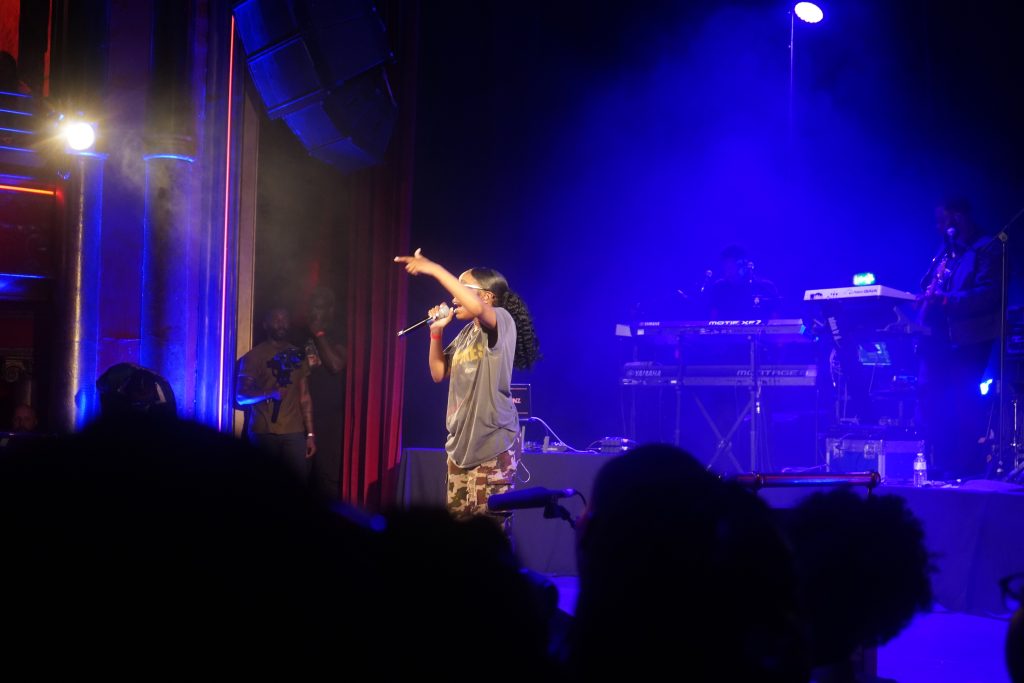 Singer-Producer Happi created an electric atmosphere in the Grand with 'Bel Air' and 'Best Friend' prior to being joined by Limoblaze for his viral hit remix of Maverick City's 'Jireh'.
International Afrogospel superstar Limoblaze was welcomed by rapturous applause the night after winning "Best International Act" at the 2022 Premier Gospel Awards. His talent for rapping and singing over smooth afrobeat instrumentals shone through with 'Ife Wami', 'Never Seen', 'Jeje' and 'Blow My Mind'.
Limoblaze took the liberty of introducing special guest Annatoria (another Premier Gospel Award winner the night before for "Best Newcomer"). She sang hit single 'Stay With Me' (A Step FWD UK Christian Charts Afrobeat #1). The Voice UK winner gleefully describes "getting to minister and stick to [my] roots in writing [her] own music in the gospel genre," as a privilege. She added, "Gospel music has such a stereotype in what people think it sounds like. What I love is people can listen to different genres of Gospel and find music they can still like and vibe to. This event shows that."
The headline act, The Spirituals, gave a fitting finale to SOLOS. As a group, their voices rang louder and blended seamlessly live whether in unison or their assigned parts. The transition in "The Crucifixion", a track from the "Easter Project", from "Were you there when they crucified my Lord?" into the chorus of the hymn "Nothing But The Blood Of Jesus" had spectators in awe as PJ Greaves' tenor came to the fore.
The choir continued, as directed and led by Marsha Morrison and Junior Garr, to sing medleys with their signature poise. The words to 'The Resurrection': 'Imela, Baba' translate to 'Thank you, Father', an amalgamation of the Nigerian Igbo and Yoruba languages. Their use of diverse tongues and vernacular drives home the Apostle Paul's notion that the Spirit of God groans in words we do not necessarily understand yet intercedes on our behalf to the Father.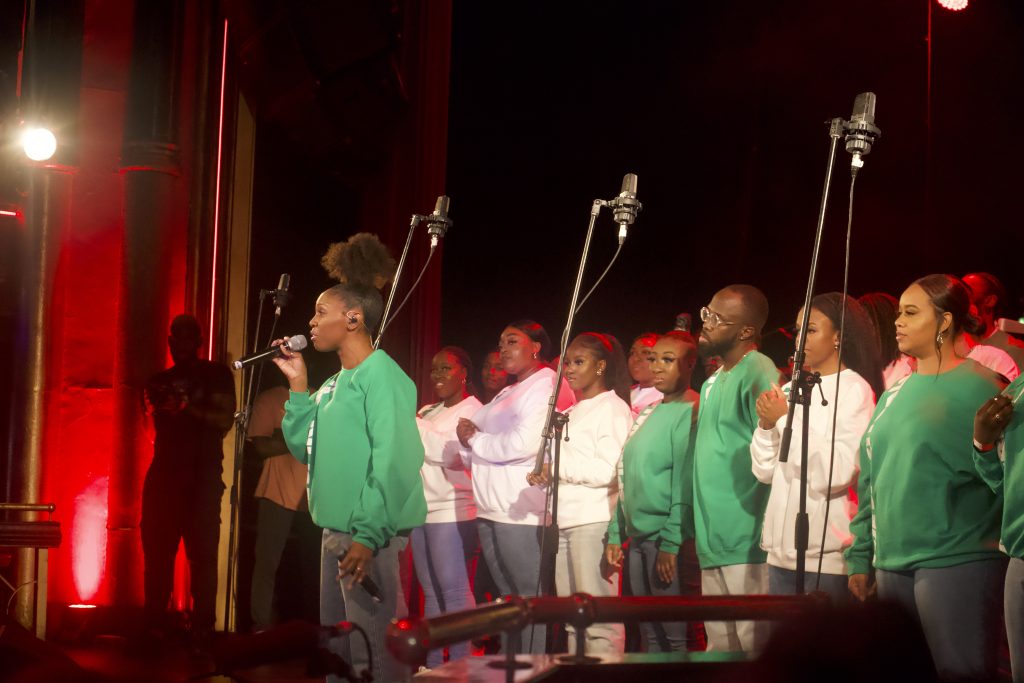 After their performance, group leader Junior Garr told me, "We have been working on some records and have three coming soon. Our inception was reimagining spiritual songs, particularly the negro spirituals. These have a redemptive element which isn't really present today so we are bringing back what it means to be spiritual." The group closed the night with their Step FWD Awards 2021 Song of the Year and Premier Gospel Awards 2022 "Best Song" – 'Wade In The Water'.
In spite of its initial late start, SOLOS London 2022 delivered an action-packed evening once it got going. As a result, for an event which was the first of its kind on such scale, it can be deemed a success. There would surely be lessons learned, however the day can be long remembered with fondness by all involved and in attendance. On behalf of all observers, I say a huge thank you to the hosts, performers and everyone who played a part in making the day happen.