The problem you usually have when you have a lot of tracks that feature guest vocalists is live performances. If the guest can't make it, you have to pipe their voices in or even sing them yourself.
Faith Child didn't have that problem. He filled his stage with the very best of what the UK scene had to offer. And then some.
When we first heard about the Airborne Tour, it already looked like a Mount Rushmore of UK Christian hip hop. But we'd later find out that A Star and S.O. was just the start of it.
The night started off with Alex E and Tess. This husband and wife producer and singer combo were ones we hadn't come across before but they got us excited. House beats, dirty basslines, sweet worshipful vocals. Look out for those guys.
Then came A Star. He served up some of the tracks from his Revolutionary EP. He also gave us a taste of what to expect when he has a headline gig of his own at the same venue in April.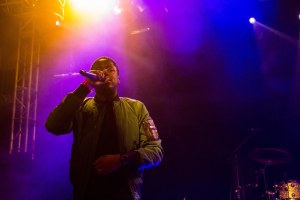 S.O. made it very clear when he hit the stage. He came for the turn up. By the time he got to Right Here Right Now, the crowd was lively and suitably warmed up for the headliner.
So up stepped the man himself, Faith Child. With live band in tow, Faith Child tore the stage up. Like, to pieces.