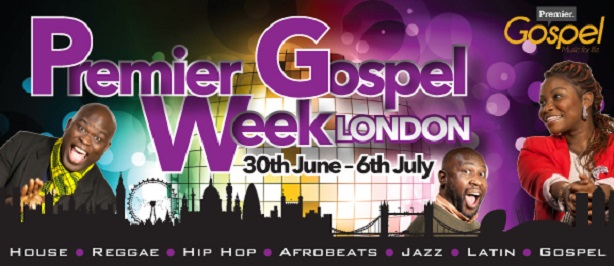 Premier Radio is in town for Premier Gospel Week, London's first week long gospel music celebration from 30th June – 6th July 2014!

The week will include seven FREE* evening concerts throughout the city plus an early morning Prayer Walk on Saturday 5th July from 9am – 11am, starting at The Rock Tower, Islington.
Each night will feature Premier Gospel presenters and live performances from the very best UK gospel artists of different music genres. Artists include: Triple O, New Ye, Time2Shine winner Boma Diri as well as MOBO Award-winners Lurine Cato and Guvna B!
Monday: House Night
Date: 30th June 2014 Location:
Archbishop Tenisons School, 55 Kennington Oval, London, SE11 5SR
SOLD OUT
Time: 6-9pm
Cost: FREE
Tuesday: Reggae Night
Date: 1st July 2014 Location:
New Testament Willesden Green, 179 High Road, Willesden, London, NW10 2SD
Book Now
More details
Time: 6-9pm
Cost: FREE
Wednesday: Hip Hop Night
Date: 2nd July 2014 Location:
The Tabernacle, Algernon Rd, Lewisham, London, SE13 7AT
SOLD OUT
Time: 6-9pm
Cost: FREE
Thursday: Afrobeats Night
Date: 3rd July 2014 Location:
Potters House Christian Centre, 304-306 Bensham Lane, Thornton Heath, CR7 7EQ
SOLD OUT
Time: 6-9pm
Cost: FREE
Friday: Jazz Night
Date: 4th July 2014 Location:
Streamz, St. Mark's Church, 337 Kennington Park Road, London, SE11 4PW
SOLD OUT
Time: 6-9pm
Cost: FREE
Saturday: Latin Night
Date: 5th July 2014 Location:
Eastlea Community School, Hilda Road, London, E16 4NN
SOLD OUT
Time: 6-9pm
Cost: FREE
Sunday: Gospel Finale Night
Date: 6th July 2014 Location:
The Rock Tower, 49 Tufnell Park Road, Islington, London, N7 0PS
SOLD OUT
Time: 6.30-9pm
Cost: FREE
Register for your free concert tickets (all nights SOLD OUT except for Reggae Night so register now) and join us for 7 nights for 7 concerts as we spread the good news throughout the streets of London with music to make our city smile! Doors open 6pm, concerts from 7 – 9pm.
For details regarding the prayer walk please contact iyisha.rocke@premier.org.uk.
*All attendees must register to attend these events, including children