Unashamed TV was founded in 2015 by Rudolf Brenyah with the purpose of providing an online platform to promote talented believers. Rudolf noticed the success of companies such as SBTV and Link Up TV and wanted to create something that served a similar purpose, but for Christians.
The dream began with precious little resources and the early days of Unashamed TV saw Rudolf stepping out in faith with the vision God had given him. Rudolf began by working with friends and family to record some Live Sessions but had a dream to grow Unashamed TV into something more.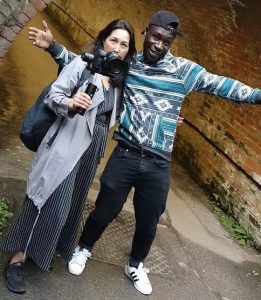 2017 saw the Unashamed TV team grow after Rudolf joined up with multi-award winning filmmaker Sarah Holloway. Sarah worked as an assistant producer on the feature film A Dark Reflection (2015) and more recently directed her debut feature-length documentary, LUCY: Breaking the Silence (2018). The documentary, which sought to help challenge the stigma surrounding mental health and suicide amongst young people, won nine national & international awards and was screened in The Houses of Parliament. It is yet to be released to the public.
Despite Sarah joining the Unashamed TV team a couple of years ago, almost none of her work has yet been released. Although she has been apart of several different projects for the platform, all of the content Sarah has been working on will be revealed in July as part of the 2019 Unashamed TV relaunch.
Sarah explained, "We began filming some short documentaries for Unashamed TV, but due to various personal challenges for each of the team, we were forced to take a hiatus, laying UTV down. At the start of 2019, however, God began to inspire us with fresh vision. It felt like the story of Lazarus who was dead in the grave, but then Jesus called him forth breathing fresh life into him. God has spoken, "For such as time as this," and so we are moving forward, by faith, in obedience to the call."
Sarah is not new to this arena; having been part of the Christian band 'Heartbeat' led by Ray & Nancy Goudie with lead singer, Sue Rinaldi. Though most would be too young to know who they were, 'Heartbeat' was well known in the Christian scene having gained recognition with two of their tracks, 'Tears from Heaven' and 'The Winner' making their way into the pop charts, in the late eighties. As the band travelled ministering through the music, they experienced a move of the Spirit that brought hundreds of young people to their faces before God, and they saw many lives transformed. With a continued passion for young people to live in their full potential and to know that they were created for a purpose, Sarah is excited to be part of the Unashamed TV team, looking to produce a range of content to help inspire a new generation.
Catch the recent Unashamed TV exclusive videos releases above and click here to subscribe!