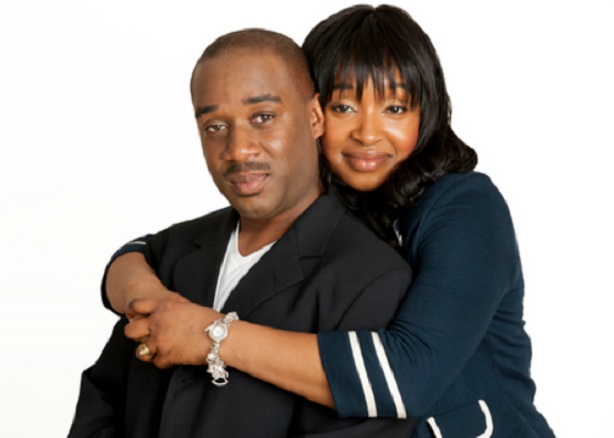 If a husband and wife duo stood before the illustrious judges of Britain's Got Talent it is more than likely that the intolerant panel would all have their hands poised ready on the red X button.

To be completely honest, when I received Clif and Marie's album CD (If Only), the thought of a deluded and vocally challenged married couple painfully belting out Gospel classics did come to mind…. I worried for their kids.
After a few seconds into the opening track, I was rather impressed. I rescheduled my morning and listened to the complete album, which was pure quality.
Check out this albums list of credits and contributors if you want an idea of the UK gospel talent landscape.
Clif and his wife Marie are both a really nice couple who began their singing dream in 2010. Marie's (Marie Reid) CV goes further back. She once sang with 2013 MOBO Award winning British Queen of Gospel Lurine Cato in a group called Redeemed.
When asked about the advantages of singing together as a married couple, they enthused;
"We share each others dreams and still live out our individual purposes at the same time. We have fun, know each other, no competition…and share the same hotel room"
The duo harbour high aspirations and ambitions and would welcome collaborations with US Gospel dynamos such as Israel Houghton, Yolanda Adams and Tye Tribbet.
If you visit iTunes, as well as their current album, this rather productive group have a wider output.
https://itunes.apple.com/gb/album/if-only/id556009504
A track such as 'Superman-the remix', would appeal to a wider demographic than the gospel genre. In fact, I think their music is accessible across many platforms in the racially complex UK Christian music market place. Their sound is extremely radio-friendly as evidenced by their output on Premier Christian Radio…about time BBC mainstream put this type of group on the play list.
As I delve into my book research archive this group reminds me of a 1990's husband and wife team called Billy and Sarah Gaines. The only difference being that the latter were Black Americans signed to Benson Records…music history tells us they did rather well.
Can creative music marketing experts in Britain produce an equivalent in Clif and Marie?
I think the unanimous response from the panel of Judges on Britain's Got Talent after a performance from this duo would be…"I think we have something here".
As first published by Steve Alexander Smith on MOBO.com