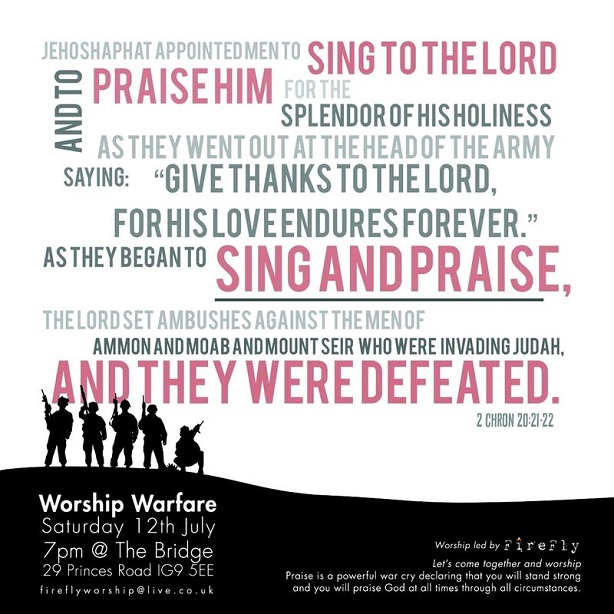 The Bible gives us so many demonstrations of the power that can be released through praise & worship! Here's a couple for you…

In 2 Chronicles 20, King Jehoshaphat finds out that a vast army is coming against him. After inquiring of God and acknowledging Him as Lord over all situations, the people of Judah & Jerusalem receive the Word that the battle is not theirs, but God's! Then in verse 21-22, we read that King Jehoshaphat specifically appoints men to go out at the head of the army singing praises to God. As they began to sing & praise, the Lord sets ambushes against their enemies and they are completely defeated!
Similarly, in Acts 16, we read the account of Paul & Silas in prison. These men had been stripped and severely beaten before being thrown in an inner cell with their feet fastened in stocks, yet from verse 25, we see that even within this situation, Paul & Silas began praying and singing hymns to God! Suddenly, there is a violent earthquake which shakes the foundations of prison, causing all of the prison doors to fly open and everyone's chains to come loose!
Now this isn't a one-off event, this is the kind of power that can be unleashed through our praise & worship at all times! But Leviticus 26:8 tells us that "Five of you shall chase a hundred, and a hundred of you shall put ten thousand to flight…", so Firefly invites you to join us in standing together for a night of corporate worship warfare as we release this power over our circumstances!
Something incredible happens when we choose to praise to our God who is infinitely bigger than all situations, and more powerful than any giants we may face. Through faith, we can worship in our brokenness and see chains came loose & situations turned around for God's glory.
Date: Saturday 12th July 2014  |  Time: 7pm
Location: The Bridge. 29 Princes Road. Buckhurst Hill. IG9 5EE.
Add yourself to the WORSHIP WARFARE Facebook event page and share with others.