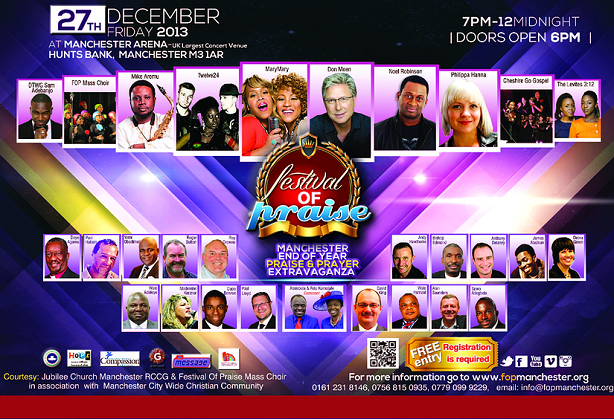 With the likes of Don Moen, Mary Mary and Noel Robinson to name a few, ​Festival of Praise |FOP| Manchester is a worship extravaganza of untold proportions set for December 27th, 2013 at the Manchester Arena.

In December 2011, Manchester hosted the first and largest gospel event envisioned to create an increased atmosphere for revival in the UK. Many International Gospel Ministers & Leaders from various denominations all came together to worship & praise.
FOP 2013 promises to be bigger & more spectacular featuring – Don Moen, Mary Mary, Noel Robinson, Mike Aremu, Philipa Hanna, Twelve24, The Levites 3:12, DTWG, Chechire Go Choir , FOP Mass Choir & host of other artistes.
"The Birth of a vision inspired by a deep and genuine desire for restoration & Revival in United Kingdom"​​
Did we mention that this fantastic event is FREE! Register now to secure your place.