WARRIOR! A Conference For Women
August 17 @ 19:00 - August 19 @ 22:00
£54.88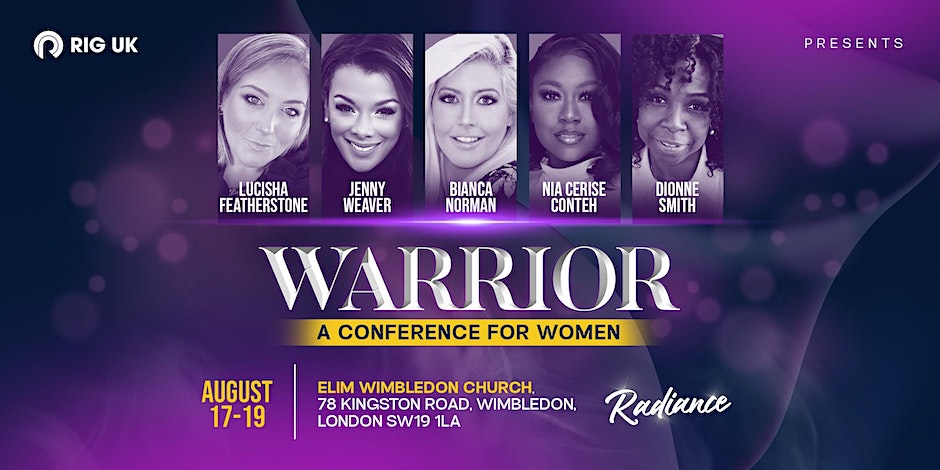 Join FIVE extraordinary women of God for this Women's Conference, as they lead the charge to raise up and empower prophetic, worshipping, warrior women who are ready to go to war for God.
WARRIOR! A WOMEN'S CONFERENCE will be in Wimbledon, London on August 17th, 18th and 19th.
Thursday 17th August – 7pm START
Friday 18th August 10am -10pm
Saturday 19th August 10am -10pm
Speakers are:
Host: Lucisha Featherstone – trained in the Brownsville Revival School of Ministry in Pensacola, Florida. She is a senior leader of Elim Wimbledon, London and heads up RIG UK under Apostle Arayomi, as well as the RIG London Apostolic Centre, along side her husband. In addition, Pastor Lucisha hosts Radiance London, which is an event for women. As both Pastor and Prophetess Lucisha and her husband are blessed with a strong prophetic mantle and have an apostolic voice for the Church and the United Kingdom. They have a calling to train and equip God's people in these end-times.
Jenny Weaver – She is best known for "Singing the Scriptures" as well as her 'Clothed in Grace' T-shirt & boutique shop and as a Social Media Influencer. Once a homeless drug addict, Jenny is now a born again believer, entreprenuer, wife and mother. Her inspirational testimony was picked up by Christian broadcasters including Sid Roth on "It's Supernatural." She is a published author of 6 books including her 1st book titled 'The Sound of Freedom.'
​Bianca Norman – Committed to seeing broken hearts restored and the love of our Father pierce the darkest of places, Bianca has a powerful testimony that God has used to impact thousands of lives in different nations. Prior to full-time ministry she trained as a teacher and qualified with a B.A Hons degree in Education. She is Dean of River Bible Insitute London Bible College and serves as a pastor within Salvation For The Nations International Churches.
Nia-Cerise Conteh – From 'Club Girl' to 'Church Girl' Nia-Cerise's life has radically transformed after giving her life to Christ following an encounter with the Holy Spirit in her kitchen. Nia-Cerise, now a content creator across several social media platforms including her Youtube channel, where she uses this platform to encourage, train, equip and reconcile Christian believers around the world, is also an international speaker and holds a Masters from Cambridge University. In addition, she is the founder of The Transform Network: A Radical Remnant designed to rigorously train women for transformation with a 360 degree holistic approach.
Dionne Smith – Dionne heads up RIG Canada, a national prophetic ministry, with a desire to bring forth, activate and release within Canada 7000 prophets, who will bring forth the authentic and integral prophetic word of God, and its power to change lives in all of Canada. She is also the founder of Ruach Calgary Ministries in Calgary Alberta Canada. Its mission is to impact lives, and bring the nation of Canada back to prayer, holiness, and intimacy with God and to turn the hearts of the children back to the Father. They are also on a mission to teach, disciple, equip and release, so the presence and voice of God is distributed like seeds throughout their city.
SPACE IS LIMITED
(Online attendees will be emailed a zoom link to join the sessions the week of the event.