UK Choir Fest – UK Tour 2016 | London
April 17, 2016 @ 17:30 - 22:00
Free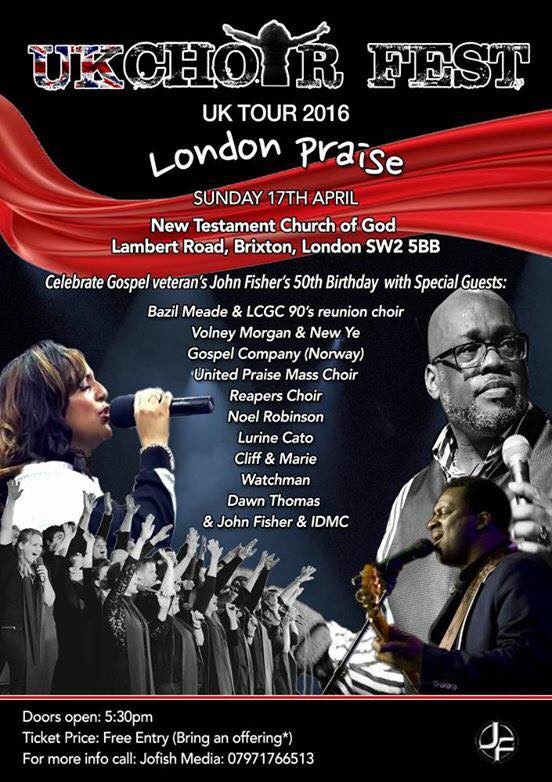 John Fisher and the UK Choir Fest tour ends with a massive night of Gospel Music. As part of John's 50th birthday celebrations, this is one of the ways John wanted to celebrate by sharing the stage with some of the UK's finest music artists.
On Sunday 17th April the NTCG Brixton will be the host venue for a massive night of Gospel music. This night is a re-run of a production John put on in 2000 called "A Night of 100 Stars". This years version will leave the gospel music loving audience breathless as each artist will show why Gospel Music is miles ahead of any other style of music.
John and IDMC will be Launching their new live album "WALK WITH ME" on the night, which was recorded at the world famous Jazz Cafe London in 2015. This project features brand new songs from the pen of John and co-writes from uk music legend Nicky Brown. The album.
Joining John and IDMC will be great friends
Noel Robinson
Bazil Meade and a special LCGC Reunion Choir
Patrick George and the Up Mass Gospel Choir
Lurine Cato
Volley Morgan & New Ye
Reapers Choir
Dawn Thomas
Watchman
Clif & Marie
Tose
and much more
Special Guest Gospel Choir from Norway Jardar Johansen & The Gospel Company
The night will be a special celebration of the best of UK gospel music,
A MUST FOR ALL GOSPEL MUSIC LOVERS
Free Entrance, (Bring an Offering and be ready to buy an album)