New Wine New Song REFRESH
April 16, 2016 @ 10:00 - 21:00
Free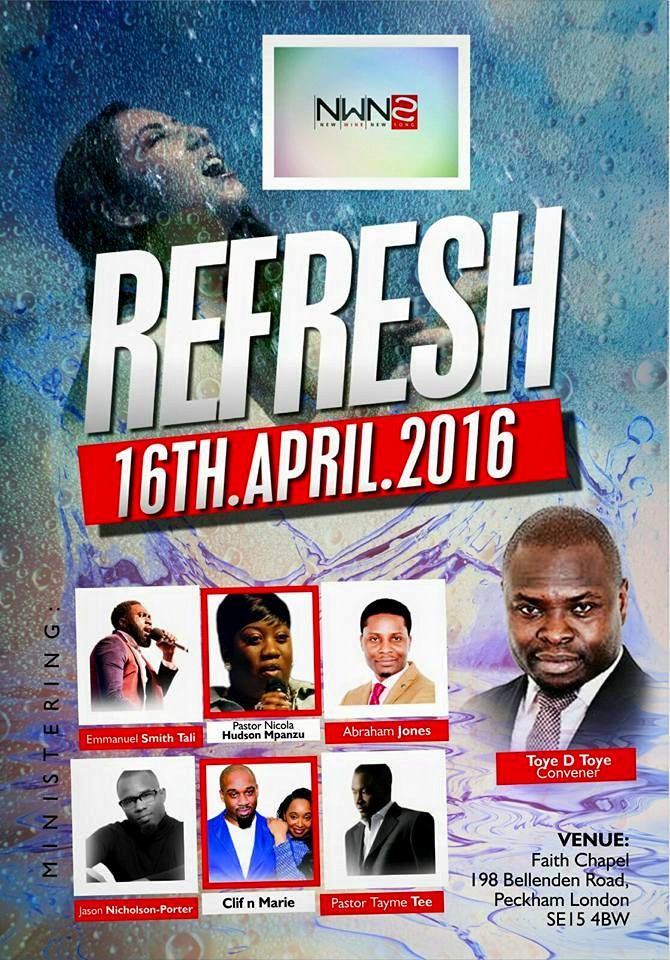 New Wine New Song — REFRESH is a gathering inspired by God for the reallignment, refreshing and release of worship leaders, music ministers, choirs, music ministries and anyone who identifies themself as a beleiver in/of Christ Jesus our Lord and Savior.
New Wine New Song is quite prophetic in nature yet very practical and simple cutting out all sorts of distractions and idols that we mostly encounter or are confronted by which dusturb our total focus and debar our total dependence on the sweet Holy Spirit in the place of prayer, worship and consecration.
At New Wine New Song we partake of the meat of the word of God which enables growth and gaurantees health,engage in unrestricted moments of spontaneous deep worship, enjoy warm fellowship as brothers & sisters and co-labourers in the faith praying for and comforting one another as the Spirit enables and leads.
It's non denominational and admission is FREE but registration is required.
Sessions are as follows:
10am – 1pm
NEW WINE for RELATIONSHIPS & MARRIAGE:
(For both Singles & Married)
Travailing in prayer and learning wisdom for our
homes, marriages and relationships.
1:30pm – 3:30pm
WORSHIPPERS CONNECT:
A time of fellowship,empowerment and impartation for
worship leaders,music ministers, musicians,
worship Pastors,choir leaders/members, songwriters
and everyone directly involved in the ministry of
music/ worship in and outside of their local
church/assembly.
6pm – 9pm
NIGHT OF WORSHIP & PROPHETIC