Ladies In Purpose 2019
December 29, 2018 @ 11:00 - 16:00
£19.45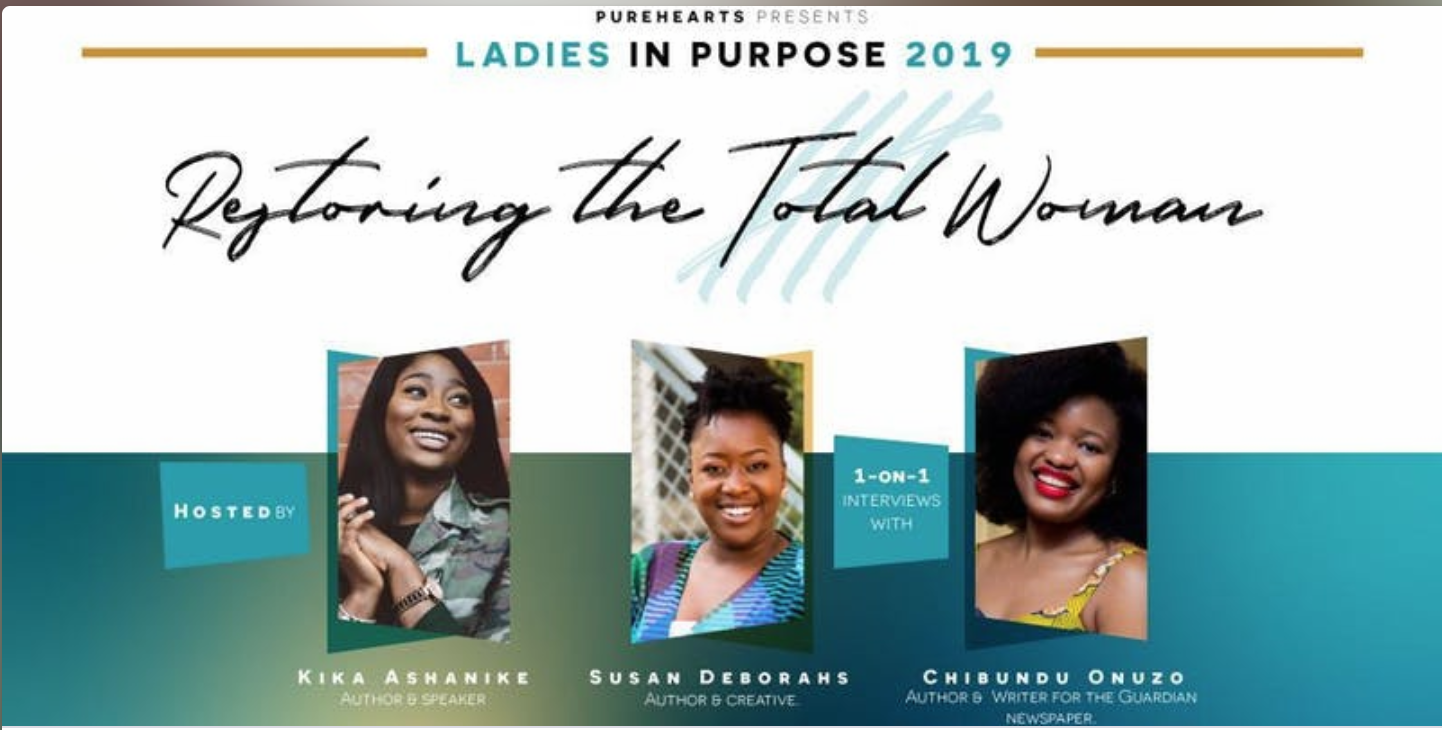 Ladies In Purpose 2019
Restoring The Total Woman
The Christian womans end of year celebration
Catering to the Christian Woman on the go, the TotalWomanCollective is an initiative engineered by Pure Hearts UK Christian charity.
Our end of year launch and special; LADIES IN PURPOSE 2019, brings you a conference like none other.
We are bringing you an author, a culinary mastermind, a teacher, a dentist, a pastor, a christian stylist and so much more. Our panelists and interviewee's are christian women that are thriving in their various industries whilst growing, falling and learning to get back up again.
December 29th consists of time in the word brought to us by the anointed Kika Ashanike, worship by the sensational Rae, panelists that includes fashion stylist Ama Godson, Podcast host Michelle Marbie Davis, Author of "what they don't tell you about being single" Tumininu Olaoshun, Dentist, mummy of 3 and youtuber Bibiana Yetty, blogger and business woman Sarah Alonge. We have one on one time with the incredible Susan Deborahs, hearing all about her journey of healing, faith and survival. And that's not all…we ALSO have a one on one interview with the amazing new talent in the publishing world, author of "The spider Kings daughter" and "Welcome to Lagos" and now writer for the Guardian newspaper, Chibundu Onuzo. whew…what-a-line-up! and what a day we have in store for you!
With a room charged full of women pursuing the heart of the Father whilst living in this millennial age, we look forward to celebrating all that 2018 has brought, encouraging and strengthening our sisters in need of support and looking ahead with truth and righteousness whilst we dance our way with praise and thanksgiving into 2019. You just HAVE to be there!
We can't wait to host you ladies…
– TheTotalWomanCollective –