Joint Gospel presents Worshippers League 2016
December 10, 2016 @ 16:00 - 20:00
Free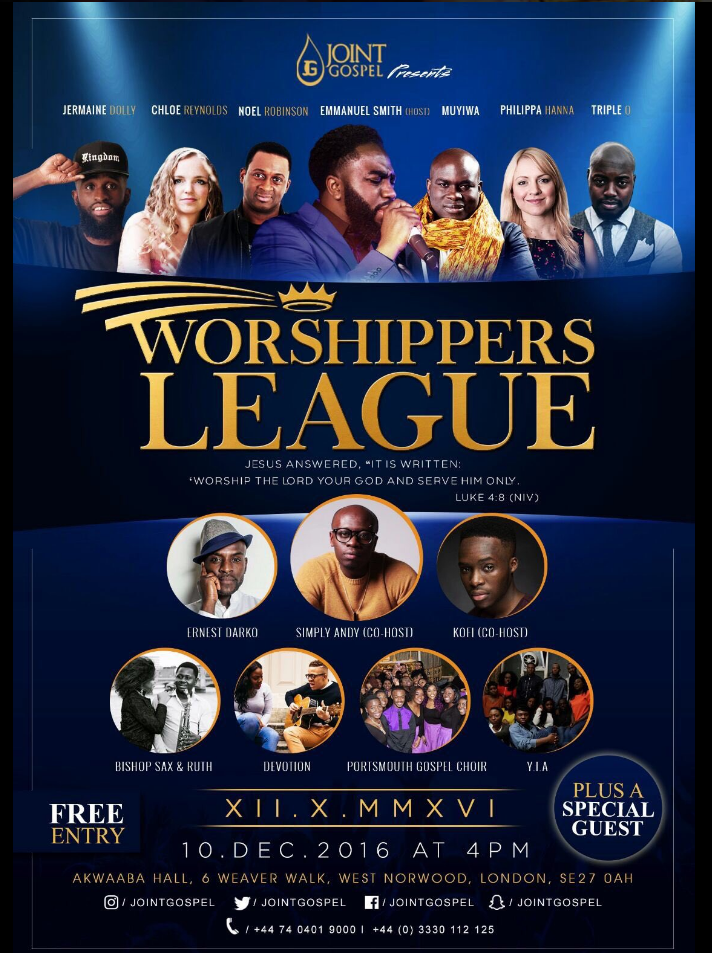 Joint Gospel is back with another amazing event themed: "Worshippers League" hosted by Emmanuel Smith, on the 10th Dec 2016 featuring many different artists like Jermaine Dolly, Chloe Reynolds, Noel Robinson, Muyiwa, Philippa Hanna, Triple O and many more.
By the grace of God we have successfully hosted UKSTOP for the past 4 years, and we can guarantee you that Worshippers League will be even greater. It will be a night filled with pure and true worship, truly an encounter with the King. There will be amazing scripted plays, praises, and our hosts for the day, are second to none.
One more thing, we have some AMAZING prices to be won on the night; register now to be entered into the raffle where you receive the chance to win either A BRAND NEW APPLE IPAD, two tickets to see the Academy award winning Disney film The Academy-award winning Disney film 'The Lion King', brought to life in spectacular fashion in London's West End at the Lyceum Theatre or a £50 gift card that can be used in over 21,000 outlets worldwide and online.
You really don't want to miss this event, we are going to have an awesome time in the presence of our King and Saviour. HOPE TO SEE YOU THERE!
Featuring:
Emmanuel Smith
Jermaine Dolly
Muyiwa
Noel Robinson
Philippa Hanna
Triple O
Chloe Reynolds
Simply Andy
Kofi Wealthyland
Ernest Darko
Devotion
Portsmouth Gospel Choir
Y.I.A (Yahweh In Action)
Bishop Sax & Ruth
And many more…