Destined To Soar (DTS) Women's Ministry Breakfast
June 8, 2019 @ 10:00 - 14:00
£30 – £35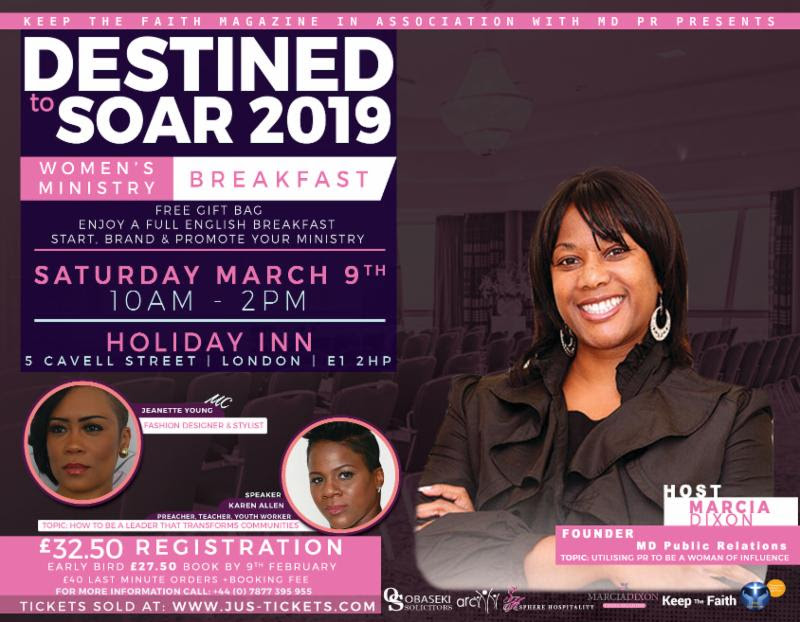 Women who want to establish, grow and promote their ministries are invited to book a place at the 11th The Destined to Soar Women's Ministry Breakfast, jointly hosted by Keep the Faith magazine and Marcia Dixon Public Relations. This breakfast is also for women who run businesses or charities and desire to be in an environment where they'll learn useful practical info, be empowered and connect with other like minded women.
You'll enjoy a traditional English breakfast, followed by practical teaching designed to help you build successful ministries, businesses or careers and enhance your leadership skills. The speakers are:
PASTOR CELIA COLLINS-APEAYGEI – Pastor Celia, as she is affectionately known, is one of the foremost black female preachers here in the UK.
MARCIA DIXON – She is the founder of Marcia Dixon Public Relations, a PR company that specialises in helping people reach Britain's black faith community.
JEANETTE YOUNG – a Fashion Designer, Stylist, Garment Technologist and Lay Preacher will be the guest MC for the DTS breakfast.
All attendees will receive a gift bag. Event sponsors include NAZ, Obaseki Solicitors, ARC church, Christlike Cakes and Sphere Hospitality, Pentecostal Credit Union.
If you book before June 1 you'll pay just £30 instead of £35. (Insert the code EBird into the Coupon Code section when making your booking* )