ANCHOR EP Live Recording (with Adegail & friends)
October 29, 2022 @ 15:30 - 19:30
£18.92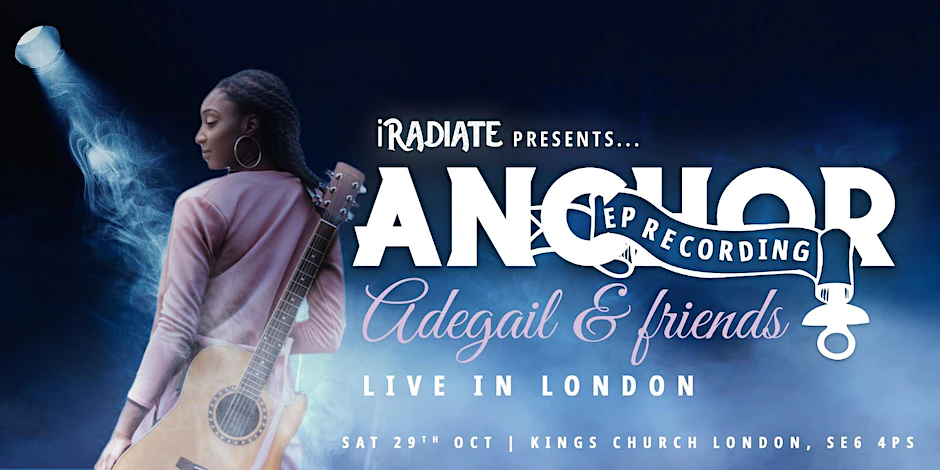 Refund Policy
Refunds up to 30 days before event
Eventbrite's fee is nonrefundable.
About this event
Following the international impact of her singles Live For You and Strength, 2 live worship experiences in 2019 and multiple globally attended iRadiate online workshops for artists and creatives in 2020-21, Adegail is back in October 2022 to live record her debut EP, Anchor!
Anchor: EP live recording will be a high production live recording of Adegail's unreleased, unheard, new songs off of the EP featuring her incredible band, singers and some special friends!
If you want to be a part of this faith-fuelled vision and recording, be featured in the live music videos and be inspired by the raw testimonies about the songs and rollercoaster journey so far, Anchor the live EP recording is where to be! Despite the highs and lows of navigating through life, faith, artistry, a global pandemic and multiple scares, God remained the ANCHOR. This live experience will be a reminder and more…
Remember to use the hashtags #AnchorLIL and #AnchorEP!
FAQ
What happens at a live recording vs worship night? During a Live Recording, as much as we endeavour to have a steady flow of worship, starts, stops and repeat takes will be required during the live experience as we best capture the visuals and audio of the songs. Come with lots of energy and a willingness to participate!
Are children allowed? Children are permitted but no childcare will be provided and silence will be strictly required during filming times. Children under 10 years old can attend for free.
Will there be parking spaces? There is limited parking available on the surrounding roads.
Can I give more? Yes, there is a donation option and all ticket proceeds will go towards the pre-production, live recording experience and post-production work of the Anchor EP.
Will I be in the music videos? By attending you are agreeing (GDPR purposes) to be filmed during the live recording experience which could mean being featured in the visuals of the EP and any other output videos following the event.
What is an EP? It is an extended play record, which is a musical recording that contains more tracks than a single but fewer than an album or LP record
Can I help in any way? The biggest points of help for high production projects/recordings like these are needed financially (via donations and ticket sales) and in promoting the event, flyer, social media posts and song links or inviting some friends and colleagues! iRadiate wants to be able to provide you with high quality, highly edifying songs and worship nights long into the future – but this comes at a high cost. This is why all help is deeply appreciated!
ABOUT
iRadiate has existed since 2019 and originates from Matthew 5:16, where we are called to shine our lights aka radiate! The reality is however that many of us are still burying our talents and living in fear. With a heart for worship and music and as a youth leader and worship leader for almost a decade, iRADIATE was founded by Adegail to equip, encourage, educate and empower believers (particularly GenZ/Millennials) to pursue purpose through the power of worship music, seminars and events!
Stream Live For You: https://songwhip.com/adegail/live-for-you
Stream Strength: https://songwhip.com/adegail/strength
For event updates/questions follow: @_iradiate / @adegail on Instagram, Youtube and Twitter. Sign up to our mailing list via our website iRadiate.co.uk for event email reminders