Following up on [Part 1] Current Premier Gospel top female artist Becca Folkes came next in the star-studded line-up of UK acts. The Manor Collective Artist, whose family were in the audience, bedazzled attendees with heartfelt and powerful performances of songs which included Maverick City's 'Yahweh' and her 2020 single 'Baba'. The presence of God could be undeniably felt as she led a worshipping crowd in the refrain: "Yahweh, be Praised. Yahweh, be praised". As with many other instances, you just had to be present to grasp the extent of how powerful this moment was on the night.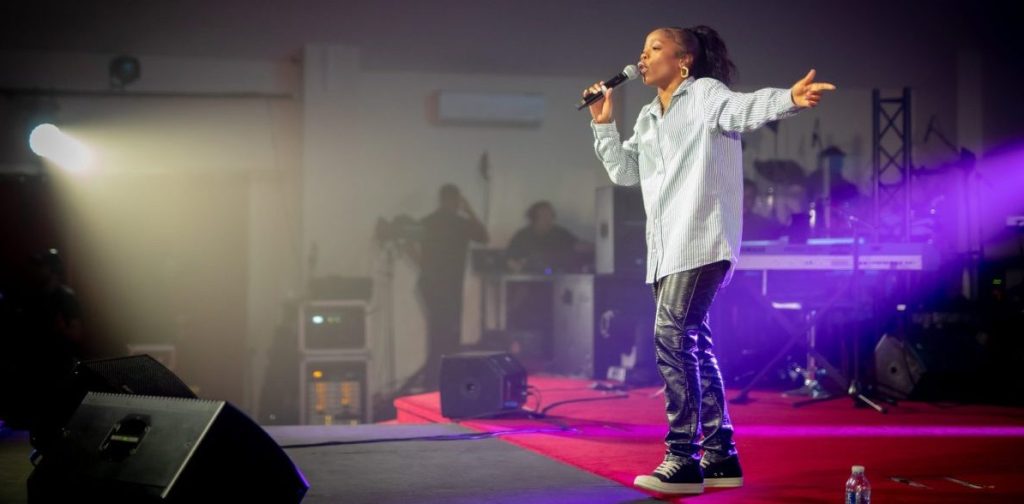 As Becca rounded off her time on stage with the chorus to "More than Anything", you could feel the sincerity and raw passion in her voice as she belted away the words of a modern classic which declares a matchless love to God. Faith Child, in appreciation of the intense worship we had just witnessed, asked Becca regarding the place she was worshipping God from in the moment. Becca, 27, replied in front of the audience her way of worshipping came from knowing where she came from. Life experiences have brought her to a place where "no one can tell me that God is not a deliverer," which she matter-of-factly proclaimed. Watching her share her testimony of deliverance was something one can hope more and more Christians in the limelight do. By sharing our experiences in overcoming trials and tribulations, we liberate others to do the same.
Becca was followed by our last supporting act of the evening, Charles Dada. Charles is another whose stock in recent years has been on the rise. Since winning the Premier Gospel newcomer award in 2018, he has gone from strength to strength. He has released multiple singles, extended plays and featured in countless songs which have endeared his dynamic tenor voice to anyone tuned in to contemporary UK gospel in recent years. His original songs 'New Man' and 'Hallelujah' are splendid records but somewhere Charles also excels is when it comes to live performance. You really get to appreciate the mastery he has of his voice when hearing him live – whether in person or on video, as I had on many occasions before the night. It is safe to note he was in familiar territory, being a well known face to Freedom Arena. As a result, you just knew this was going to be a big performance from and for him.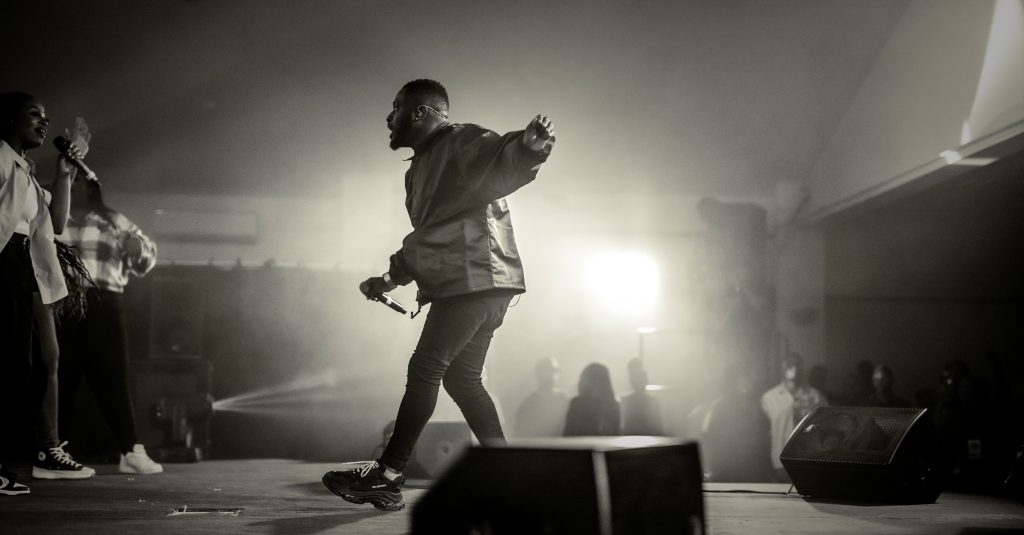 Elevation Worship's 'No One' led the way in his setlist and proved an inspired choice from go. Charles could be seen energetically singing, jumping and dancing all over the stage to the Chandler Moore-assisted Elevation song. The praise song had worked and made way to the African chorus "You've been faithful Lord from the ages past" which drew mass audience participation. Charles is not only an artist but an experienced backing vocalist in the music industry who has graced stages such as the ExCel Centre, Wembley Arena SEC and Manchester's MEN Arena among others. His time as a background figure, he believes, has been a valuable lesson. "Everything happens in a place of service. In the background, you learn how to serve God and learn humility early on." he admitted. He followed as by admonishing anyone with aspirations to "know [their] why and ultimately never give up." Inspirational advice from someone who has worked hard on his gift and to carve his own special place on the UK gospel scene.
Unforgettably, Charles also played a pivotal role in planning the concert behind the scenes. He is the creative director at ICHO media, the team who brought us the event alongside Saltlight Group.
To add to what had already shaped itself a night to remember, headline act Travis Greene took the stage in what was his return to the UK after a four year absence. His love and sincere appreciation for London was on display as he expressed gratitude to each of the supporting acts. He charged the UK crowd to heavily support UK gospel artists and not to always wait for the crossover artists from across the pond before attending concerts en masse. The talent and artistry are certainly present in abundance when it comes to our artists. UK Christian Music breaking the next frontier in popularity and reach would be expedited by an increased support for home-grown acts by Christian communities nationwide. Definitely, the line up of Samuel Bella, Emmanuel Smith, Niiella, Rachel Kerr, Becca Folkes and Charles Dada gave audience members much to go home, search and add to their playlists.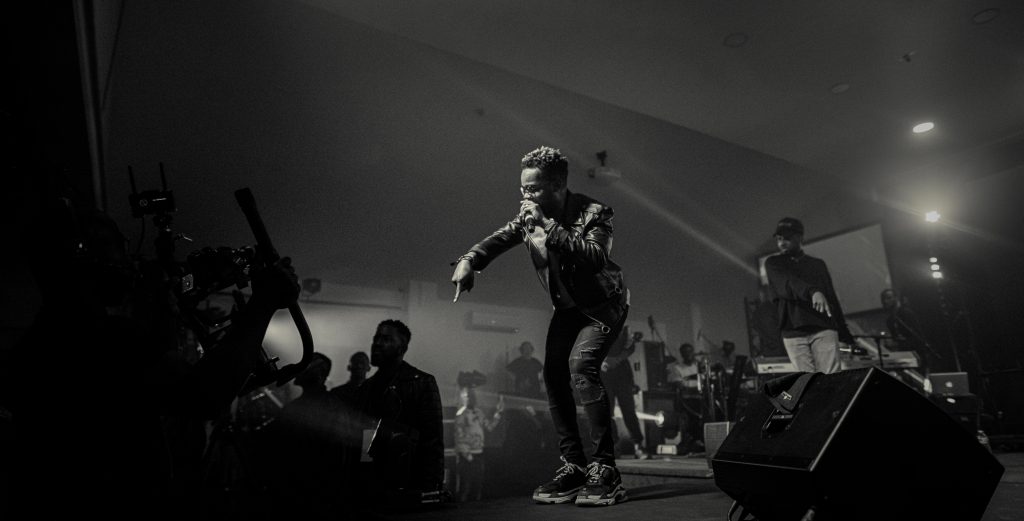 With acoustic guitar in-tow, Travis started off by singing 'Nara Ekele Mo', a song of thanksgiving which he features on with Nigerian gospel star Tim Godfrey. 'Nara', a song with a title which means "Take my praise" in the Igbo language has taken the church by storm international. Wherever there are Nigerians, you could guarantee the song featuring in some capacity in recent times. Such was the impact of the predominantly African-origin audience, that they joined very quickly in singing along. Travis then transitioned to Nathaniel Bassey's 'Imela' which he led the Freedom Arena in singing,
"Imela, Imela, (Thank you, Thank you)
okaka onyekerunwa, (Great and Mighty Creator of the World)
Imela, Imela, (Thank you, Thank you)
Eze m'oh" (My King)
Following this deep call to worship, The Forward City pastor unstrapped the acoustic guitar and switched the tempo going into a run of anthems which included "Great Jehovah", "Intentional"
"Won't Let Go", "You Got Up" and the new "Dependable" (featuring Darrel Walls and Chandler Moore) which you'll certainly be hearing more of in the future.
You sometimes forget how many deep cuts an artist like Travis Greene has when you hear his songs on their own. The strength of his catalogue becomes evident when seeing him live . Such was the extent of this that many big Travis Greene songs in their own right including 'While I'm Waiting', 'Soul Will Sing' and 'Respond' didn't make the cut. Fortunately, we were afforded a snippet of the latter at one point. I assume this was likely done by Travis in response to a couple of requests from fans in the audience .
It is also impossible to forget the rendition of 'Good and Loved' (originally sung with Steffany Gretzinger) which was superbly assisted by Areatha Anderson on the night. The multiple Stellar Award Winning artist's live show displayed several other gears as old hymn "What Can Wash Away My Sin (Nothing But The Blood Of Jesus" interplayed very well with debut effort "The Hill" – a combination which has become commonplace in his ministrations. He even led stripped-back renditions of Maverick City's "Jireh" and "Wait on You" with a piano before returning to his acoustic guitar to sing "You Waited" and rounding off a brilliant show with THAT song "Made A Way".
An eventful evening drew to a close and a great well-done must be extended to all who were involved in making this happen. There were countless moments of intimate worship, lively praise, and words of encouragement with life-changing testimonies which made for a memorable show. Each performer gave a wonderful account of their artistry on a night where God's name was glorified through the use of their gifts.
It was a great pleasure attending this concert and I'm sure everyone present was blessed. We look forward to more events showcasing the gospel music scene in future.
Missed the first half of the review? Check out [Part 1] of Travis Greene Live at Freedom City London
All images courtesy of Saltlight Group