Following a four year absence, Gospel music star Travis Greene returned to the UK in a concert organised by ICHO Media and Saltlight Group in partnership with Premier Gospel on the 2nd June 2022 (Jubilee Bank Holiday) at the Freedom Arena in London. In his time away from these shores, the 'Made A Way' hit maker has added even more favourites to his catalogue. Crowds from afar travelled to a packed Freedom Arena on the Platinum Jubilee bank holiday to attend the Travis concert with support from some of UK Gospel's finest acts.
We were hosted on the night by MOBO Award winning rapper/presenter Faith Child and Premier Gospel's own Akosua who both led and entertained the audience through the night. We were also afforded the privilege of watching live interviews with each performing artist post-performance and song association games to keep us on our toes in the meantime.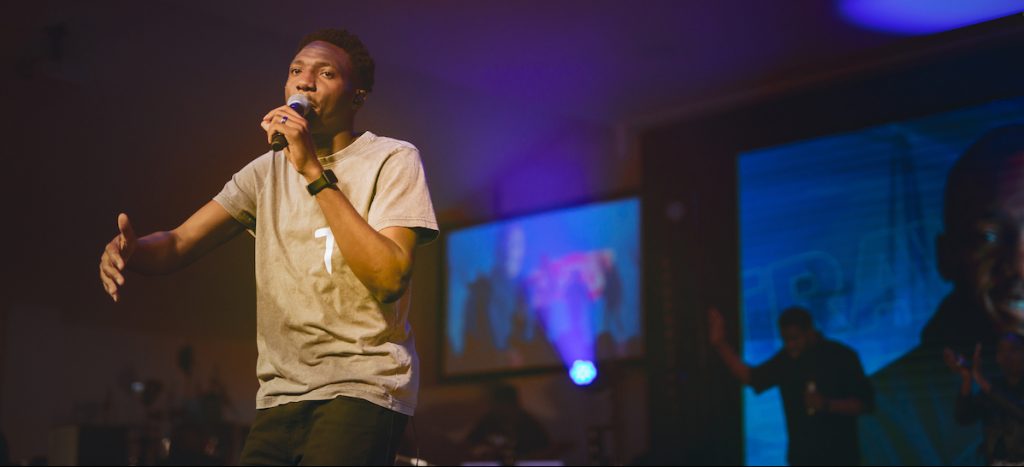 From the beginning we knew we were in for an extraordinary show with Samuel Bella first up. The 'Rend the Heavens' singer brilliantly ushered us into the presence of the Lord by with his upcoming single 'Yahweh' followed by his catchy songs 'In Your Fullness' and 'Move' which have gripped listeners in recent times. The presence of God could be felt as Sam led the audience, particularly in the chorus of 'Move'. His exclamation, "yes God" midway through the chorus,
"Move in your power
Holy Spirit,
Come have your way,
We're waiting"
was a stirring moment in which you just knew the Spirit was present. Sam later told the hosts of the story behind the impactful worship song ('Move') and that we should be expecting 'Yahweh' in the next months as well as an album in the near future. He also managed to give advice to any person who feels called to a place of leading worship – "Serve in your local church and God will give you more. He knows if you can do much with little, he will give you plenty."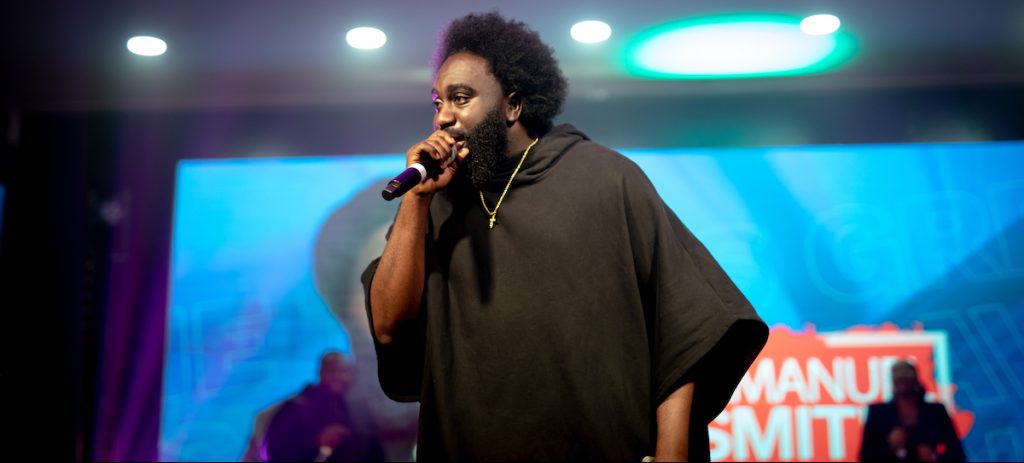 The Voice live semifinalist, Emmanuel Smith next gave us much to listen to and sing about in his performance on the night. Emmanuel is an individual whose gift has made plenty of room for him in the secular space and this was very apparent here as he gave us an energetic mix of songs demonstrating his impeccable artistic range. His popular single 'Asore Ye De' had already been referenced by audience members in the pre-show so rowdy reaction came as no surprise once it was played. The packed Freedom arena (church auditorium) vibed ecstatically as the minstrel performed the hit which aptly means "Church is awesome" in Twi.
The singer-songwriter, of Ghanaian origin, continued on from that as he brought the audience to an attitude of worship as his powerful voice would lead an outpouring of 'Yahweh' (All Nations) and 'Goodness of God' (Bethel), two familiar songs to churchgoing folk. Our hosts for the night on their return to the stage, made the special request for Emmanuel to sing Mercy Chinwo's 'Excess Love' which has been a staple in his ministrations. He obliged to this request and was instrumentally backed by the electric guitarist's smooth chord progression in another quality song number.
Afterwards, Smith spoke on his experience as a Christian in the spotlight whilst remaining true to himself. He enjoyed it and told attendees to not remain satisfied with being in the four walls of the church. "We are called to go out there into the world" he stated with his words that really echoed Christ's charge in Matthew 5 for us to shine our light for others to see God and come to him.
The night's line-up continued giving excellence as another vocal powerhouse, Niiella, took to the stage in what has been a momentous year for her thus far. The songstress is the only international act in the history of BET's Sunday Best to make their Top 10, a feat she achieved in Season 10.
Her star has only shone brighter in 2022 as she won the "Best Female Performance Award" at the VGMAs (Ghana's equivalent to the Grammy Awards) last month. On Thursday night, she captivated audience members with her rich tone singing her A Step FWD's UK Christian Charts Contemporary Gospel number 1 from October 2021 (with Sanctuary Music), 'Where You Are'. The cry of the chart-topping song is, dare I say, even more mesmerising in a live setting as Niiella's immense voice wows listeners from far and near. During her time on stage, she additionally introduced us to an upcoming song with the hook "I don't wanna share this temple with nobody else but you". On Faith Child and Akosua's return to the stage to interview her, she expressed surprise at the VGMA win in what has been, in her words, an interesting year. She testified, "In this year, God has made certain things happen. I've just had to be obedient and show up. Then he literally does the rest." We are most certainly excited for where God takes Niiella next on her incredible musical journey.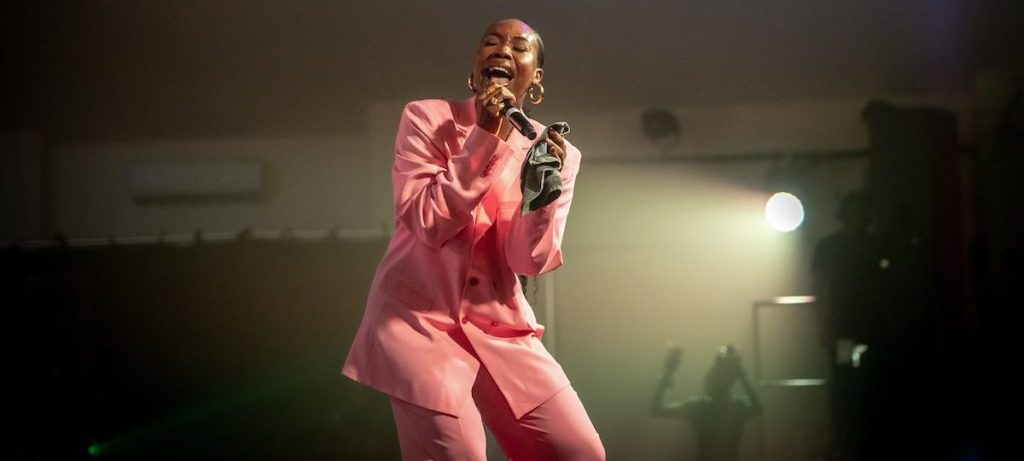 We were afforded to another masterful act immediately after, as the incomparable Rachel Kerr performed next. The accomplished singer-songwriter, renowned vocal coach and past MOBO Award winner displayed her honed craft as she led through gospel numbers including 'Awesome God' and 'Bless the Lord' (Andrae Crouch) which had her break out the dance moves by the bridge ("he has done great things") – a feel-good moment the crowd completely got going with. Rachel additionally managed to take us back with throwbacks to some of gospel music's pioneers as Fred Hammond's 'Blessed' and Mary Mary's 'Shackles' provided nostalgia to add even more to a phenomenal showing.
On their return, our hosts would not let her go without hearing even older gold from Rachel's vocal cords. A rousing acapella of the hymn 'To God Be the Glory' followed before they interviewed her. Rachel, a force to be reckoned with in both the secular and gospel music spaces, aptly proclaimed, "I really believe God has called us to go inside and outside the church so we can claim new territories. We serve a God of the exceeding and the abundant," Rachel declared, as she stressed how important and possible it is to win the outside world for Christ. For even more of the spectacular vocal stylings of Rachel Kerr, know that you are invited to her concert on the 24th July.
Click the link for [Part 2] of the Travis Greene Live at Freedom City London now published.
All images courtesy of Saltlight Group